Attn Driver's Ed Students: Friday is the last chance to take your handbook test & sign up for drive times.

Rainbow Communications will be Live streaming graduation this Sunday June 28. Visit, rainbowtel.net/live Current Rainbow customers can sign in using their account number or login information. Any Non-Rainbow customer can login using the username and password located on our RainbowLIVE Website. After Logging in, just click on the "LIVE" Tab, then Click on the top RainbowLIVE Stream and you are there. Rainbow Live Link: rainbowtel.net/live



Reminder: Today is the last day to pick up graduation tickets. Pick up tickets at the Board of Education Office 706 S 1st St.


As we continue to plan for the 2020-2021 school year we would like your input regarding your health concerns. Please take a few minutes and complete the following survey. Back to school parent survey:
https://bit.ly/2N7Zmja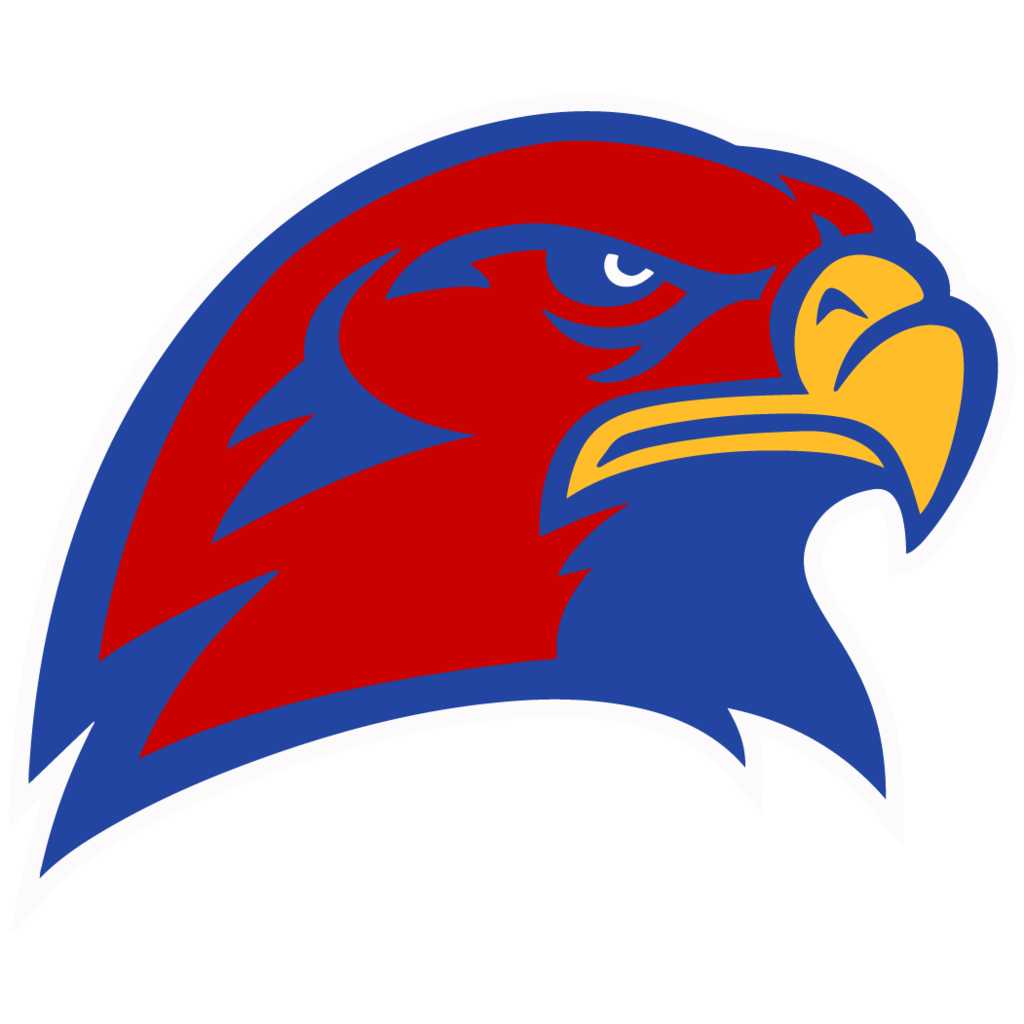 Hiawatha USD 415 4 yr old At-Risk Pre-School applications are now being accepted. Children must be four years of age on or before August 31, 2020. Applications are available at the Board of Education office 706 S 1st St. Hiawatha, our website
www.hiawathaschools.org
, and by using the link below. Contact the Board of Education Office (785) 742-2224 with any questions or email
jsheldon@usd415.org
. An application can be mailed to you, call (785) 742-2224 with your address information. Pre K Application:
https://go.aws/2Y3LqwK
HHS Seniors please check your email for graduation information.
Just a reminder that HHS Senior fees must be paid before receiving graduation tickets.
HHS Trap Club will have a trap shoot, Sunday, 6/14 in Falls City at 2:00. Bring equipment. All students interested are welcome. Contact Makayla Pilcher with questions.
HHS Seniors must have all fees paid before they will receive their tickets for graduation.
HHS Graduation Information Attached. Red Hawk Proud!

Any HHS Student 9th-12th Grade interested in cheering for the 2020-2021 school year please fill out the cheer form (link below) Forms are due June 19th. Cheer Form Link:
https://forms.gle/GxZimDnJS2KbQAw87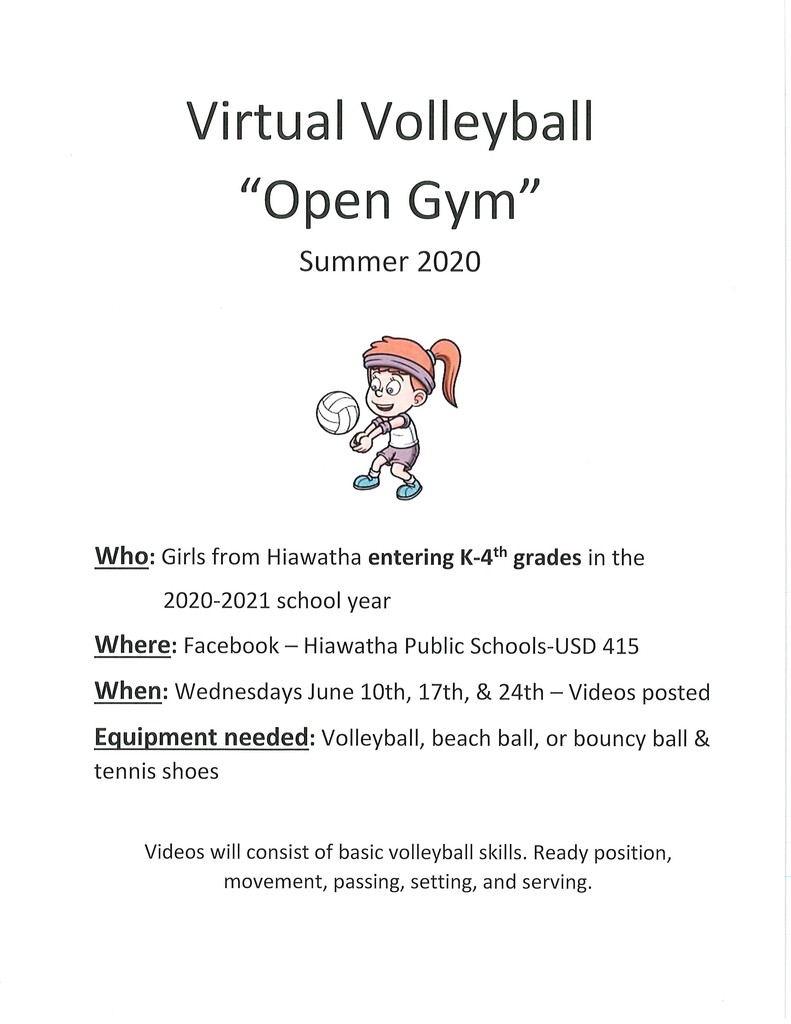 As we finish the school year, we would like to send a HUGE congratulations to Karl Kliewer, 2019-2020 USD 415 Teacher of the Year! Karl is an amazing teacher and mentor to peers and students! He always makes learning fun and exciting!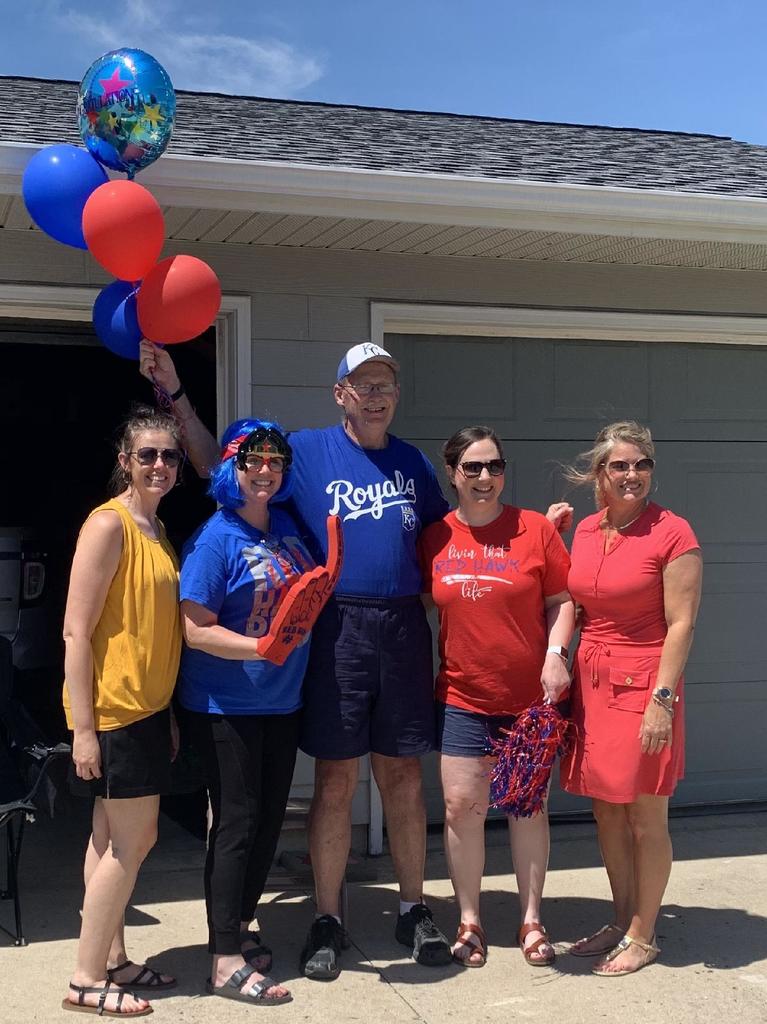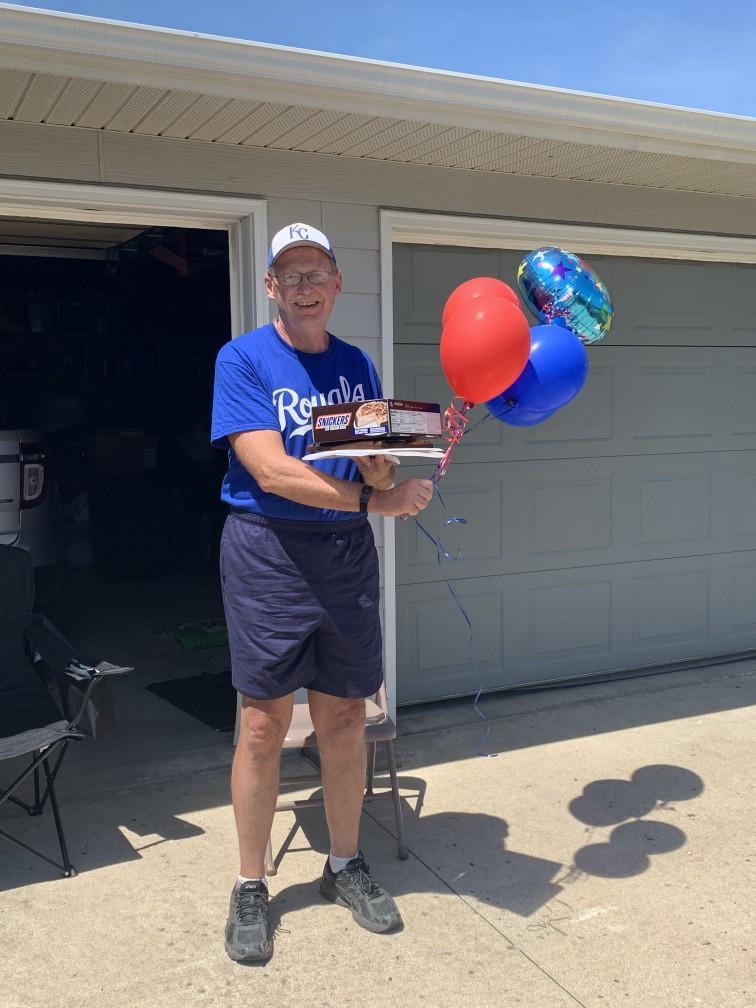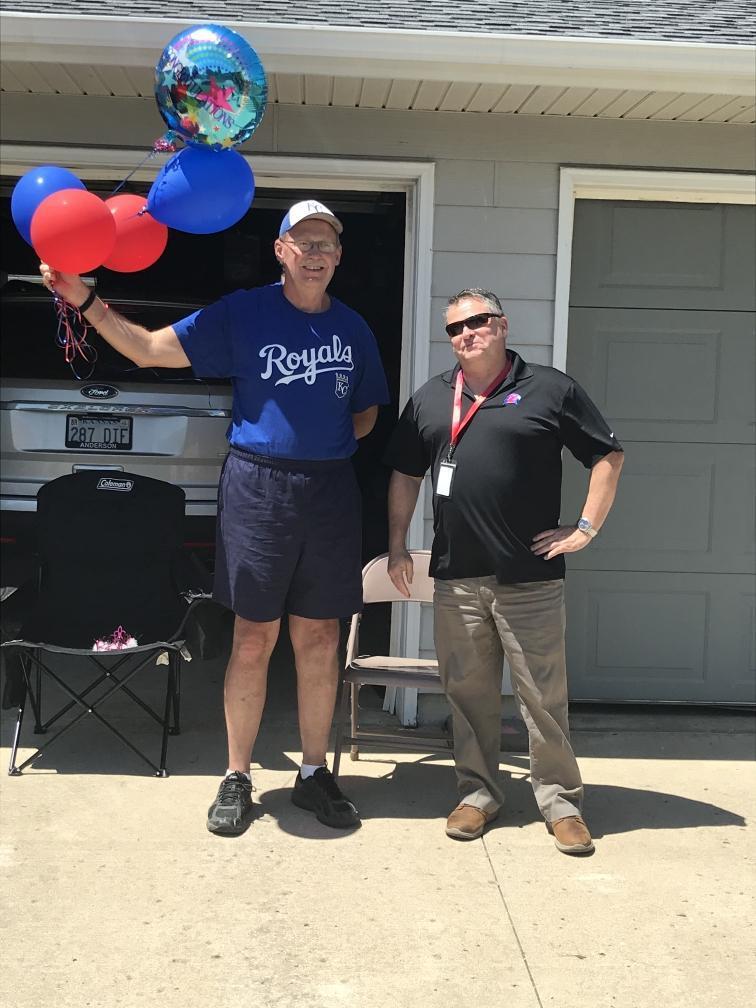 Virtual Volleyball "Open Gym" for K-4th Graders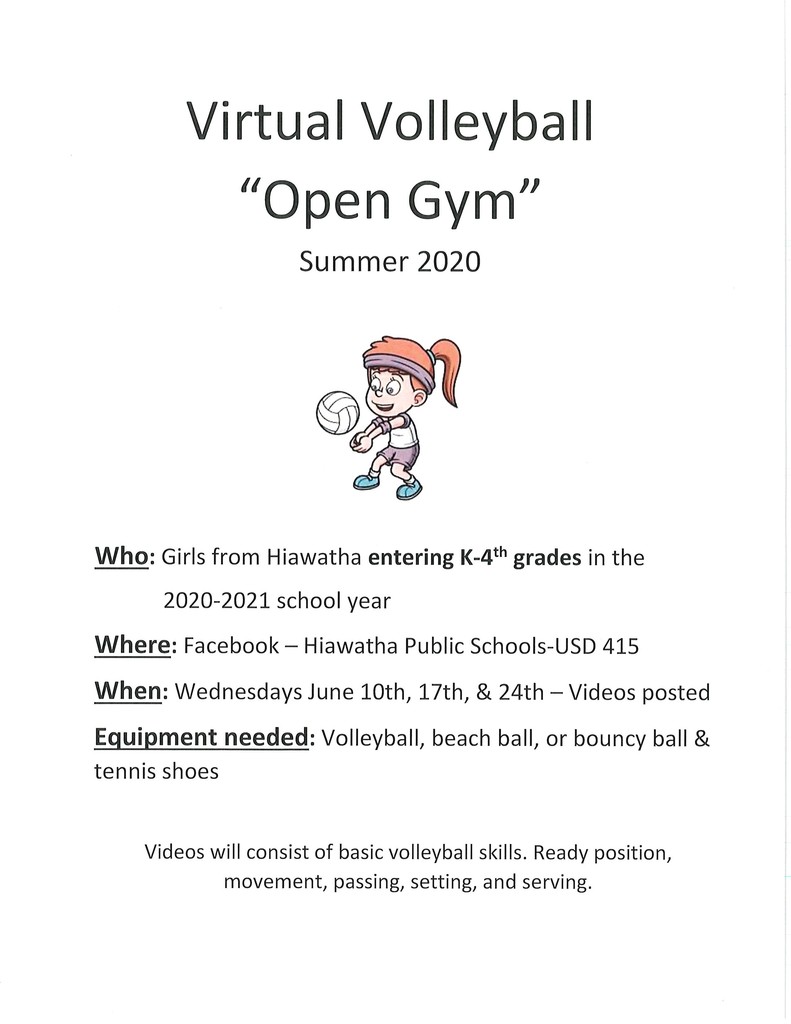 Attention parents of students going into the 5th and 6th grades for the 2020-2021 school year. Chris Diller will be leading conditioning sessions for 4 weeks starting on June 8th at the middle school football field / track. The sessions will focus on running form and cardiovascular conditioning. Sessions will be on Mondays and Thursdays ending on July 2nd. The total cost for the 4 weeks is $10. Please bring the money to Mr. Diller on the first day. Checks should be made out to HMS. A boys' session will be from 9:00 - 9:45 a.m. and a girls' session from 10:00 - 10:45 a.m. Only 14 students are allowed per session. First come first serve for filling the spots. If there are at least 5 more boys or 5 more girls that want to participate after the first sessions are full we will have another session for whichever group needs another session. Each student needs to bring their own water bottle. There will not be bathrooms available so please plan ahead. If you miss your session you can not come to a different session that same day. You must always go with the session you are assigned to from the begining. Please call the middle school office at 785-742-4172 to sign up.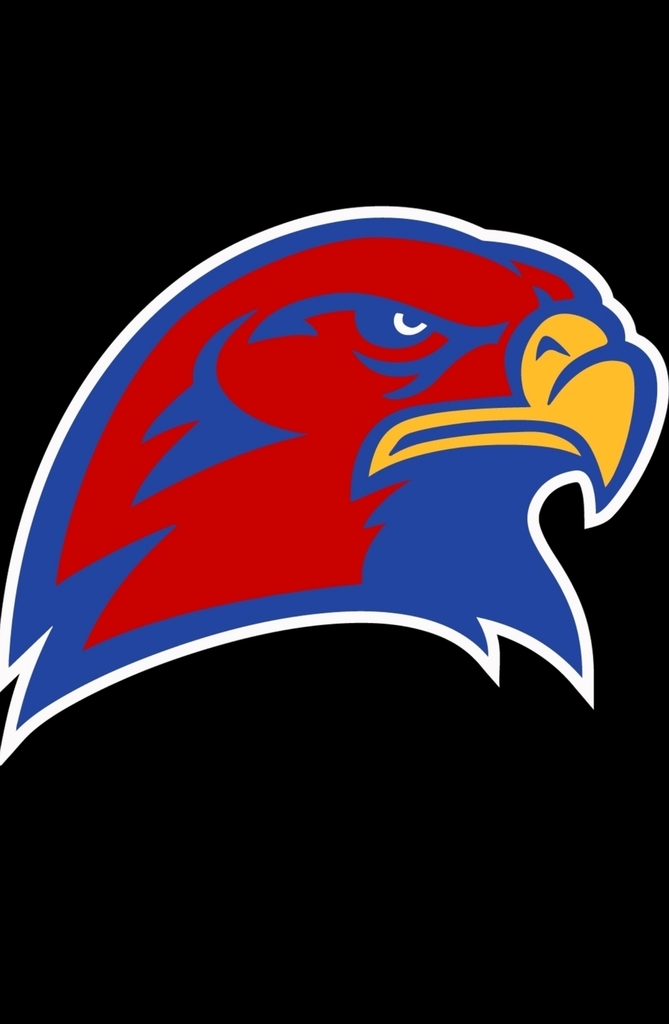 HMS Summer Volleyball: 5th and 6th Grade Open Gym Wednesdays 9:50 am - 10:50 am June 10, 17 and 26. Please fill out the form by clicking the link below. 5th/6th Grade Volleyball Form:
https://bit.ly/2U11igZ
HMS Volleyball: 7th and 8th Grade Open Gym Wednesdays 11-12:15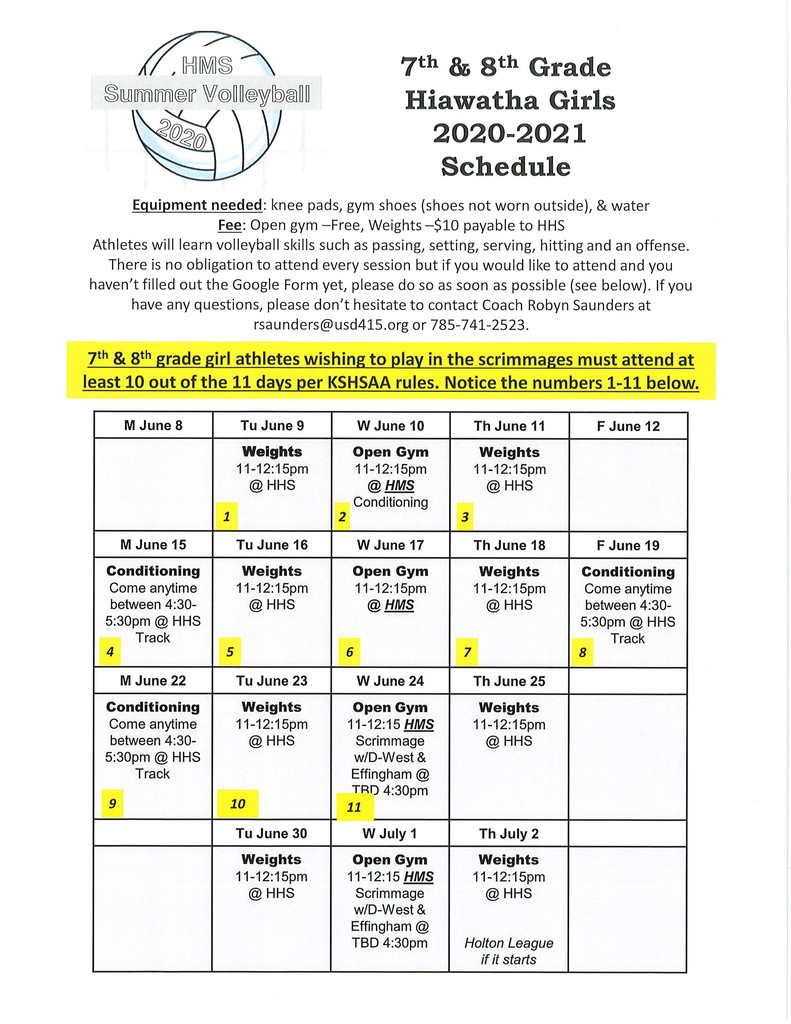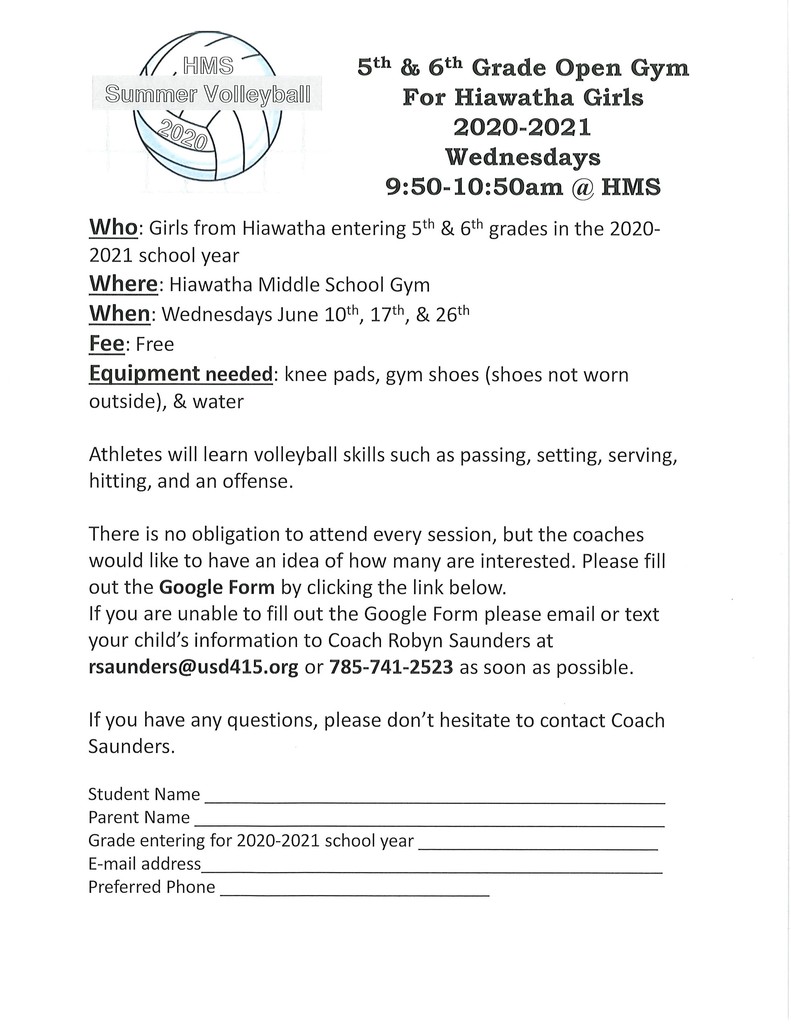 HMS/HHS Summer Weights/Conditioning is open to students 7-12th grade.
HMS/HHS Summer Weights/Conditioning @ HHS Beginning June 8th 6:30-7:45 am HHS Boys (M-TH) 8:00-9:15 am HHS Boys (M-TH) 9:30-10:45 am HHS Girls (M-TH) 11:00-12:15 HMS Girls(Tue. & Thur. ONLY) 1:00-2:15 pm HMS Boys (M-TH) *$10 Payable to HHS-will be collected 1st week *Enter/Exit Back Weight Room Door ONLY *Students will need to bring their OWN water bottle *Students MUST only attend their assigned session, students will not be able to attend another session that day if they missed their time. *If a student does not adhere to protocol set in place by Hiawatha High School and USD #415, the student will be asked to leave and not return the duration of summer weight program