Senior Financial Aid Night!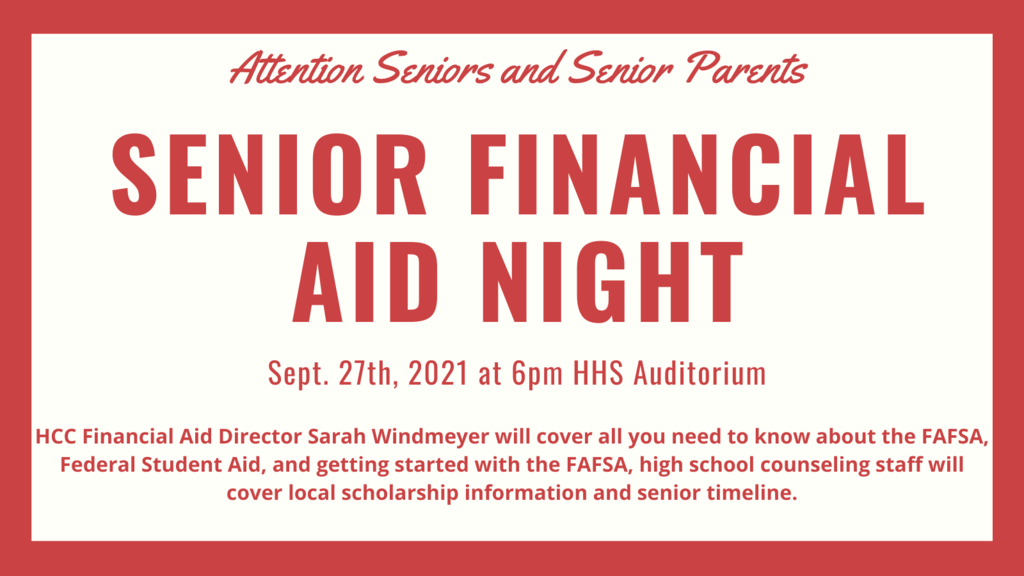 The Hiawatha Elementary School is very excited for Homecoming Week! September 27th - October 1st Go Red Hawks! #HESRedHawks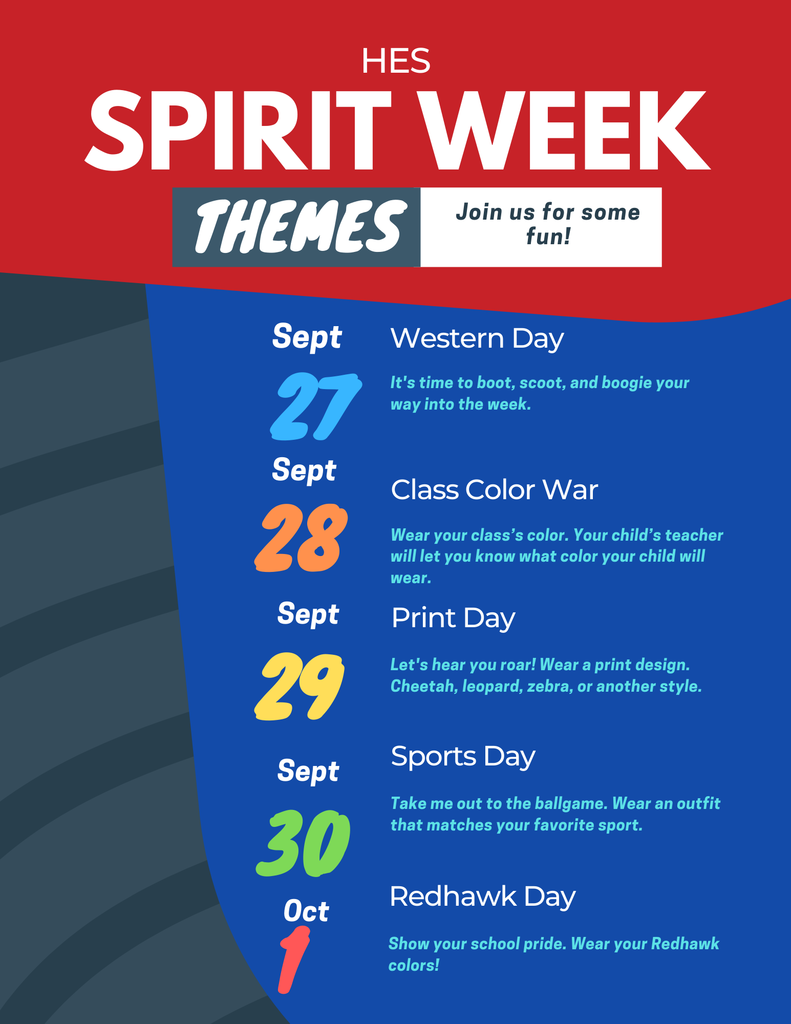 HMS Order your T-shirt before October 1!

At HES this past week, all of our students grades K-4 had the opportunity to attend a concert that featured several local musicians as part of our new STEAM program. Our first STEAM unit is focused on our community and showing the students the variety of opportunities our community can offer in the different areas of STEAM. We would like to thank all of those musicians for their wonderful performances. The students were amazed at the talent we have locally and many have already asked if we can see another concert. Our performers for the week were Jessie Scheitel, Ray Brintnall, Natalie Hackler, Shane Spangler, Judi Bruning, Melody Sommers, Shayna Leahy and Sarah Kleopfer. Thank you so much for performing for our students! Special thanks also goes to Lynn Allen and the Brown County Historical Society for allowing us to hold our performances in the downtown auditorium! #HESRedHawks

HHS Junior Class 2nd Annual Roll Fundraiser!! If interested in ordering contact any HHS Junior or email Kathy Kliewer
kakliewer@usd415.org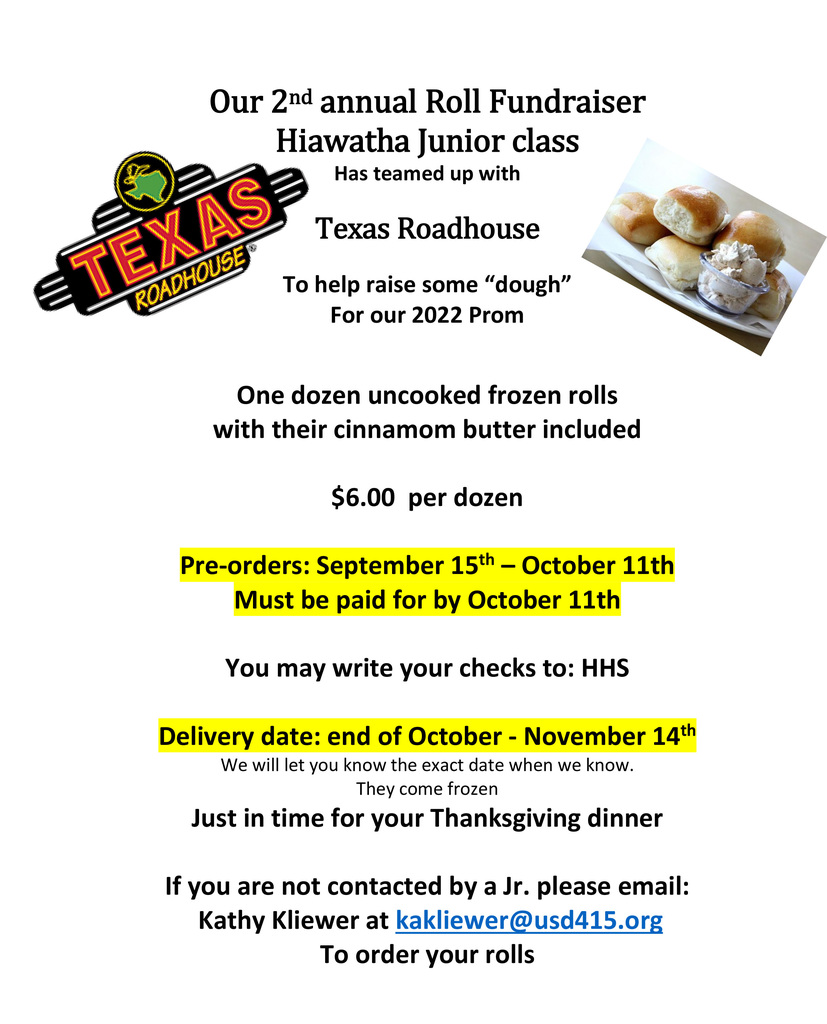 Congratulations Red Hawks!!!! The Red Hawk Varsity Volley Ball Team defeated Perry: GM1 25-17, 25-27, 25-13. GM2 25-15, 25-22. JV Won: GM1 25-18, 25-19. GM2 25-18, 25-23. C Team with the split: GM1 26-28, 25-12, 10-15. GM2 25-11, 25-11. Great Job Red Hawks!
Senior Financial Aid Night!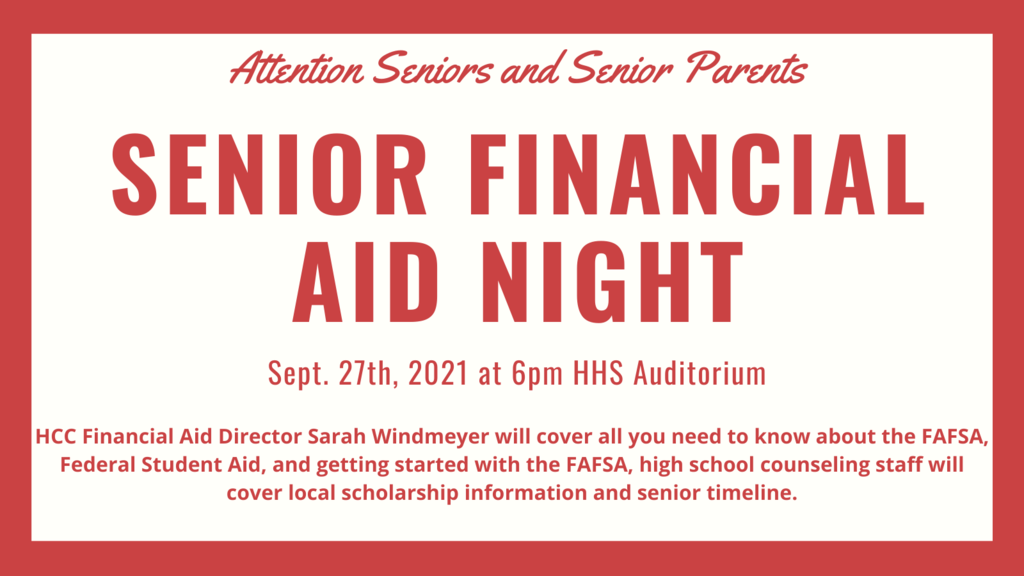 USD 415 is seeking bus drivers for routes and activities. Starting pay is $19.00/hour. A Class A or B Commercial Driver's License with passenger & school bus endorsements is required. We will help the right individuals obtain required certification. Interested individuals should contact Jim Farris at
jfarris@usd415.org
or 785.742.2224.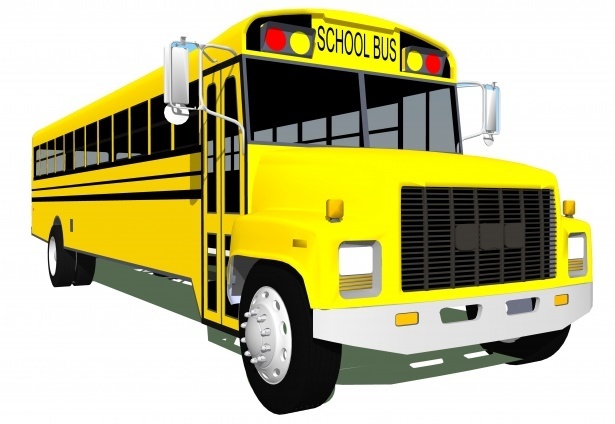 Hiawatha Elementry School Picture Day Tuesday September 14, 2021 #HESRedHawks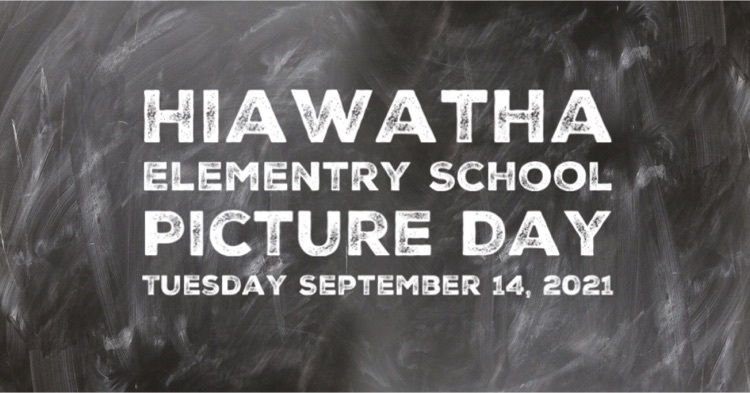 Congratulations to the August's recipients of the State Farm Kindness Award given by Ryan Meininger. Nominations for the award are given by grade level teachers. These students are recognized for demonstrating kindness on a daily basis. Way to go! (Left to Right: Kim Krauter, School Counselor, Ethan Morton, Remy Siebenmorgen, Arron Yang, Ella Olson, and Ryan Meininger.)

Hiawatha Elementry SchoolPicture Day Tuesday September 14, 2021 #HESRedHawks

HES is excited to invite Grandfriends of our 4th grade students to the HES library on Friday, September 24th. Please note the 2 times for our classes.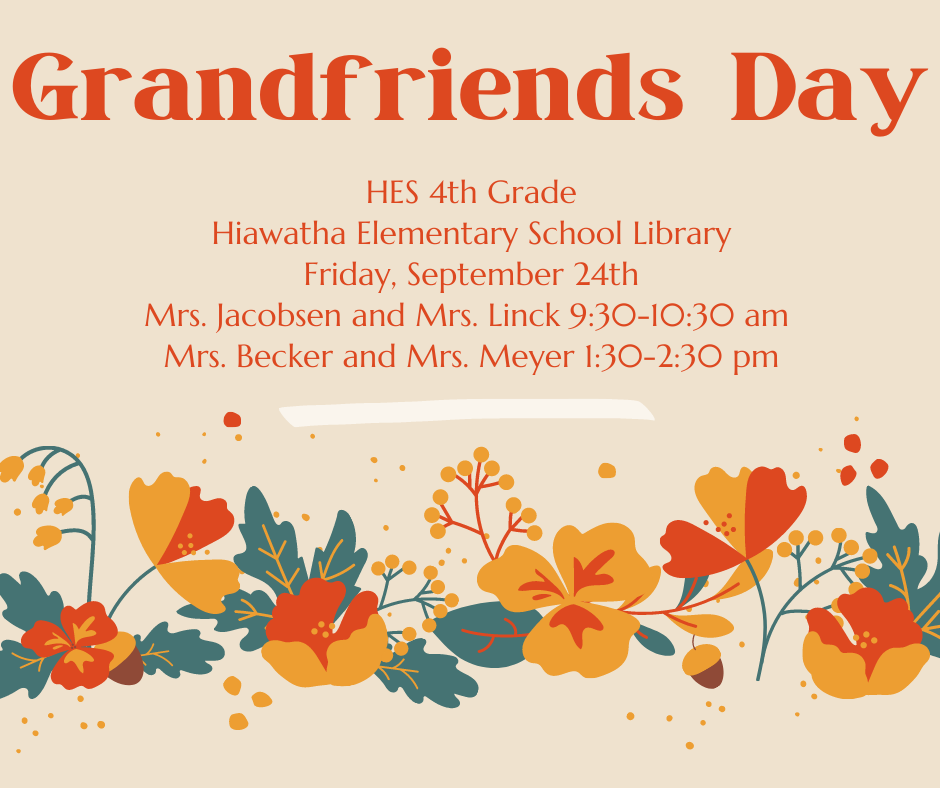 Each week, we honor a staff person for their service. This award is called the HES Person Award. It stands for Honoring Every Staff Person. Our PTO joined in the celebration of that individual's efforts by purchasing a Sonic drink of their choice. #HESRedHawks #USD415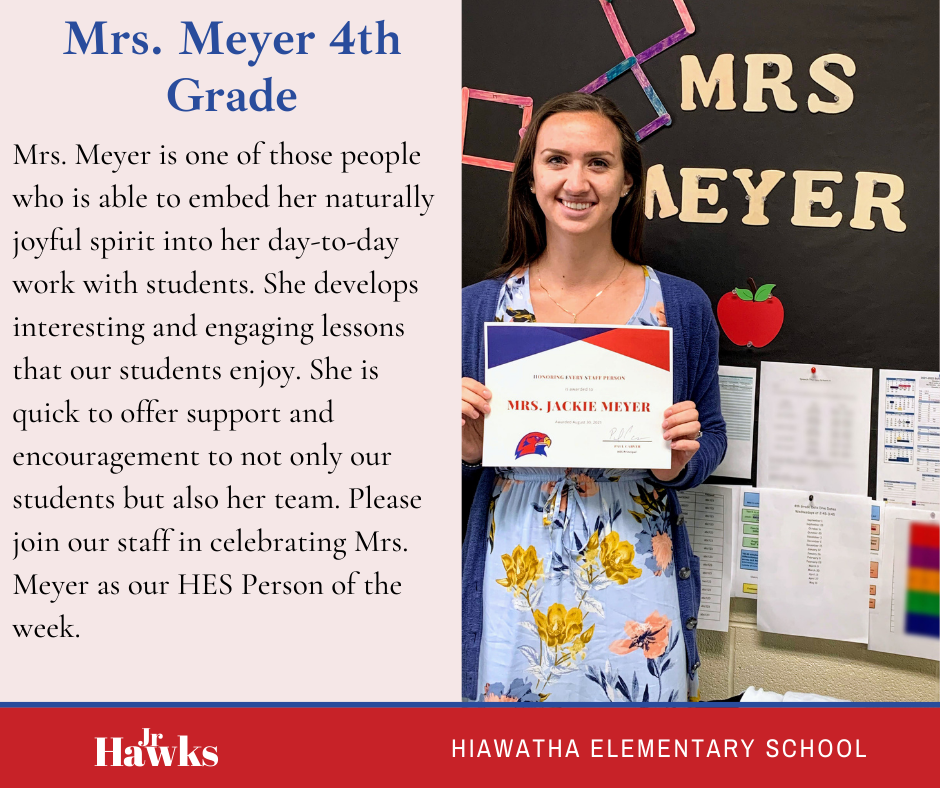 Hiawatha Middle School Pictures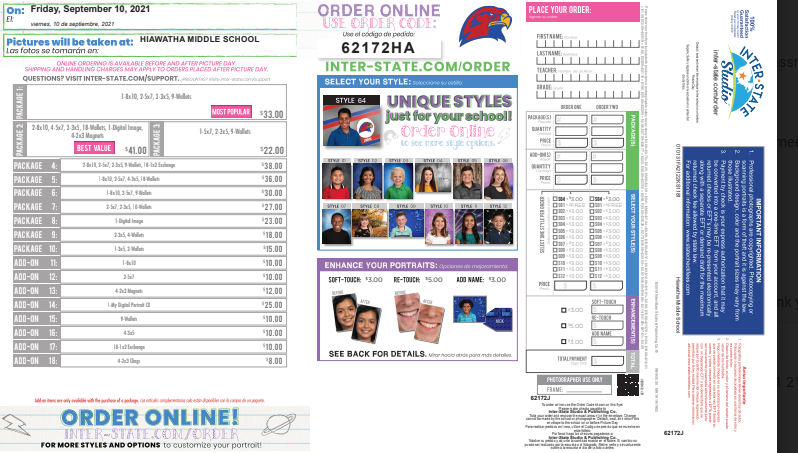 Hiawatha Middle School Pictures, Friday, September 10th
Volleyball results from tonight's triangular @ Jeff West. C team def JW 25-7, 25-6: def Sabetha 25-15, 21-25, 15-7: JV with the split def Sabetha 16-25, 25-20, 25-12: JV lost to JW 17-25, 25-17, 7-15: Varsity with wins def Sabetha 25-21, 25-15: def JW 25-11, 25-10 Great job!!!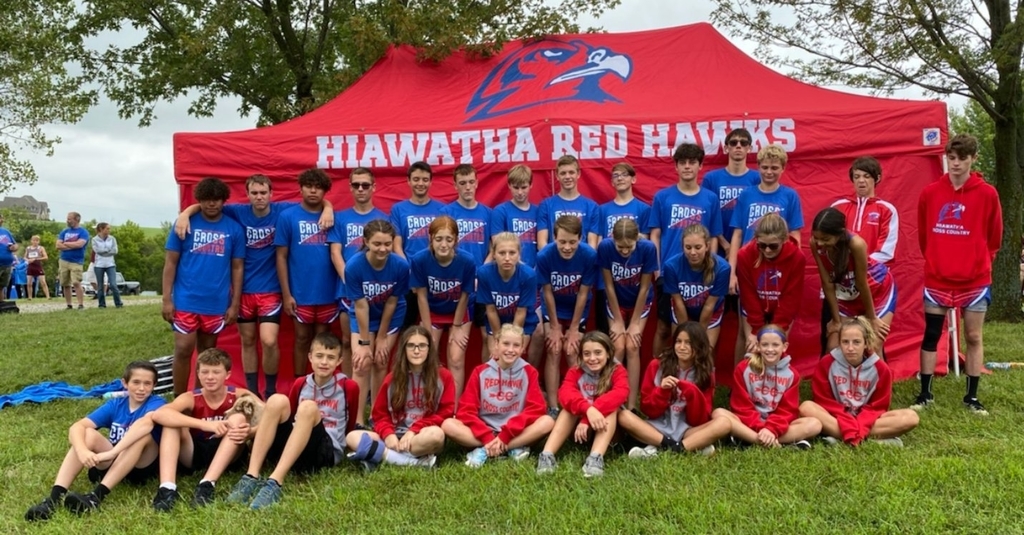 Hiawatha Middle School Pictures, Friday, September 10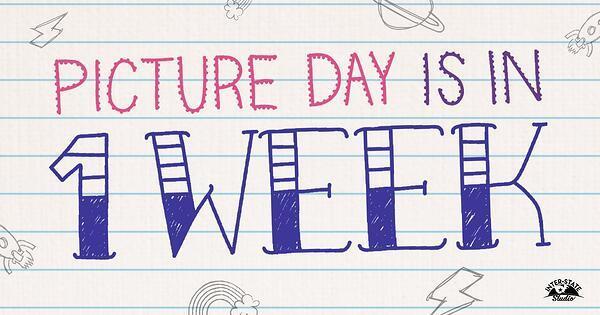 Today, Student Council students shared tips on being a successful high school students with the freshmen class.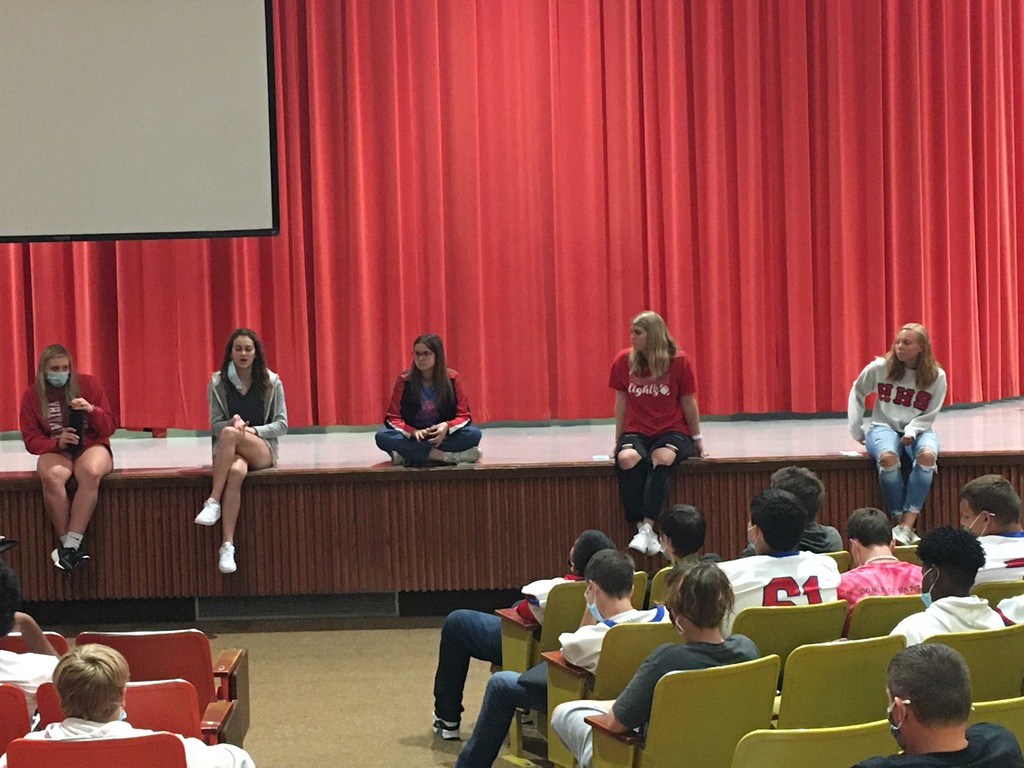 Congratulations to the HMS girls volleyball teams tonight against Holton! 8th A 25-9, 26-24, 17-15 8th B 24-26, 23-25, 15-8 7th A 23-25, 16-25, 8-15 7th B 26-24, 25-11, 15-3