Hiawatha Elementary School
600 Miami St.
Hiawatha, KS 66434
785-742-7181
(FAX) 785-742-2545
Lonnie Moser, Superintendent Paul Carver, Principal


---
Dear Hiawatha Elementary School Families,
As we prepare for the long weekend, I wanted to reach out to you with a few updates regarding our Continuous Learning system.
1. No School- Teachers will not be assigning new materials or holding their office hours Friday or Monday. This follows the school calendar.
We will still be serving meals on Friday and Monday.
2. Co-Curricular expectations- We again thank you for your patience as we pivot from our original plan for Co-Curricular (Specials) classes.
We will be utilizing a website as our method to post links and provide information. You can find the link from your child's general education teacher on the school website, and a link is provided here: https://sites.google.com/usd415.org/cocurricularchoiceboards/home
We strongly believe that the subjects taught by our Co-Curricular teachers are important to develop the whole child. However, we recognize that for many people, adding more responsibilities to an already stressful time, is impossible.
Co-Curricular activities are highly encouraged but are considered a "May-do"
It is our hope that these choice board activities take no more than about 5 to 10 minutes to complete.
Please communicate with your child's teacher about how to share the completed tasks
Use these activities to guide active and creative times your child may have.
3. Grade expectations- The elementary school operates on a standards-based system. What that means is that students who can complete the grade-level expectations at a mastery level have completed the standard.
For our Continuous Learning Plan, we recognize that the traditional method with which to teach and assess these standards is impossible.
We are relying on students to give their best efforts to learn the standards from the materials provided by the teachers.
Your child's fourth-quarter grades will be altered according to the current situation.
It is and will always be our highest priority to put our students' lives first. Now more than ever we are more concerned about our students' physical and emotional health than we are about the grades in elementary school.
4. Technology- Hopefully, most of the devices have been updated and are functioning properly. However, more technical issues will arise as is the nature of technology. If you experience technical issues, please continue to communicate with your child's teacher and they will direct your concerns.
As has been a repeated topic and will continue to be, I'm so thankful to be a part of this community who values education, our teachers, and your child's education. I hope this weekend is restful for you and your family and you stay healthy!
Sincerely,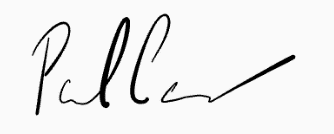 Paul Carver