EDIT MAIN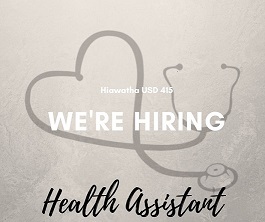 Hiawatha USD 415 is currently accepting applications for a Health Assistant. Please fill out the district application (link below) and email to [Email hidden] or mail to Hiawatha USD 415 706 S 1st St. ~ PO Box 398 Hiawatha, KS 66434.
District Application: http://bit.ly/2V0Trlw
Health Assistant
Essential Functions:
Provide care to injuries in the absence of the School Nurse as directed per standing orders or delegation by the School Nurse.
Screen students for communicable diseases who present with symptoms and report to the School Nurse for further assessment. Assist with isolation needs as needed.
Receive, log, and administer medication per School Nurse delegation in the Health Room.
Provide health services as required for students having special medication needs (IE: blood pressure checks, blood glucose checks, heart rate checks) and report to School Nurse.
Assist with health record keeping: Updating immunization records Filing of doctor notes, physicals, injury reports, etc. Record significant health information received from providers and parents
Assist with hearing, vision, and dental screenings as needed.
Refer reports of physical, emotional, sexual abuse to the School Nurse.
Assist building secretaries with duties as needed (temperature checks of visitors/vendors/parents, answering phones, lunch coverage, door security, etc.).
Assist or perform other duties as assigned by building or School Nurse.
Qualifications:
Current CPR certification Ability to relate positively with staff, students, and parents Current, unrestricted, CNA/CMA certification Ability to work as a team Ability to travel between schools in district as needed daily or weekly Willingness to learn and adapt to ever changing situations
Physical Requirements:
Constant bending, twisting, lifting, and pulling. Constant alternating between standing and sitting. Normally does not lift any object weighing more than fifty pounds.