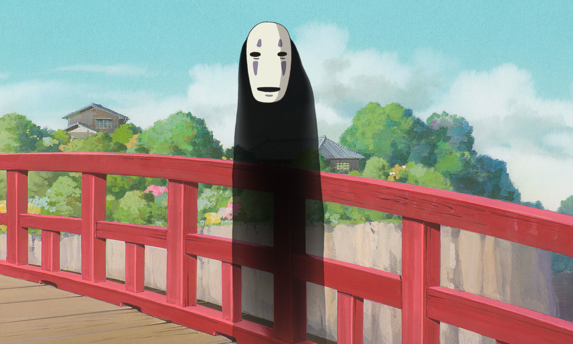 Spirited Away film review
Brenna Diller
Wednesday, February 20, 2019
Spirited Away is a Japanese film by the animator Hayao Miyazaki. In this film, the main character, Chihiro, is sent on multiple quests to get back to her parents. When I first started watching the movie I was not very intrigued, but as the story went along, I began to understand more piece by piece and really enjoy the movie. By the end, I realized that I really liked it and I would definitely recommend it to others.
The movie begins with Chihiro and her parents moving to their new home. Chihiro is not very excited about having to leave what she had in her old city behind. Her family drives the car as they are intrigued by something and they lead themselves into a forest where they park in front of a tunnel. They enter through because Chihiro's father is convinced it is a theme park. Chihiro watches in horror as her family eats all the food they can find and turn into pigs. This propels the whole film into Chihiro's mission.
Chihiro finds herself asking for a job in a bathhouse run by a lady by the name of Yubaba. Yubaba puts her to work and Chihiro completes all of her tasks with the help of an older boy named Haku. She meets many new kinds of people and things that provide roadblocks and help her to get back to her parents.
I believe that sometimes the film was hard to understand. It was occasionally hard to hear what Chihiro was saying. The animation part was done well in my opinion, but I also don't know enough about that to say how it could have been done better.
So, taking all of this into account, I would highly recommend this movie to others. It is light-hearted, fun to watch, and it has a clean ending. I would also say that if you are not enjoying the movie at first, and you don't want to continue watching, hang in there. The movie gets so much better as it moves along. I watched it with a class of students with me and we all enjoyed it very much. If you are looking for a film to watch and you have a free 117 minutes, check out Spirited Away animated by Hayao Miyazaki.