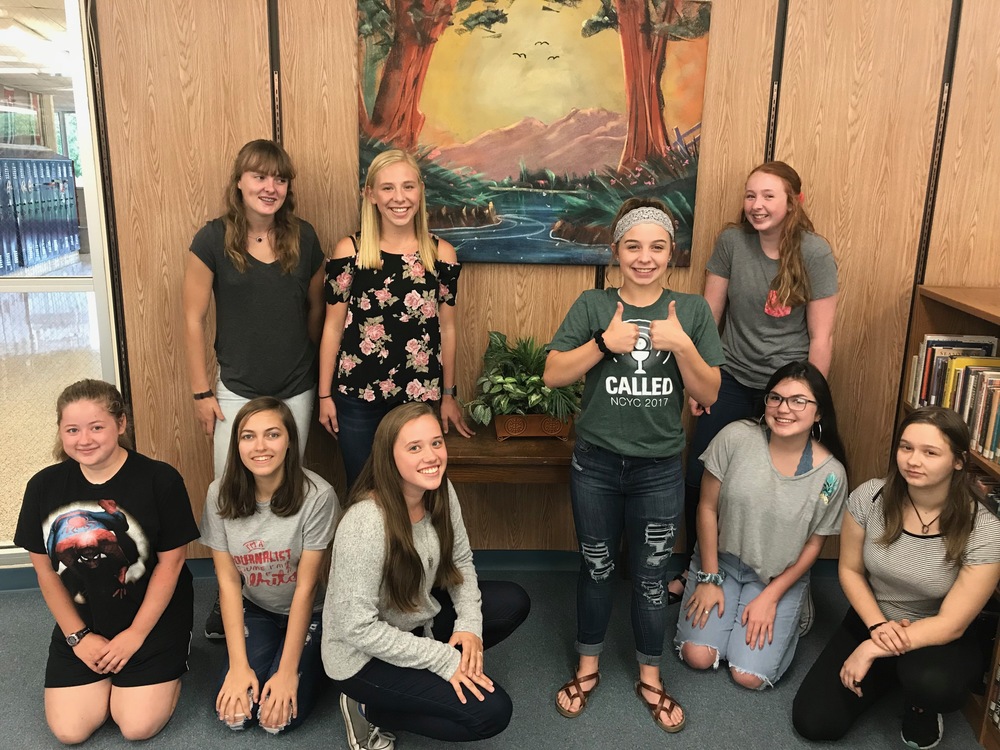 Hawk-Eye staff introduces new podcast to publications lineup
Kate Madsen
Monday, February 11, 2019
The Hawk Eye Publications team has recently added a brand new media platform that we are very excited to share with all of you!
In December of 2018, we published our very first podcast episode. In our podcasts we cover a very wide variety of topics, from the happenings of the school, to new movies that are coming out, to politics and world news.
Publications sponsor James Farnen explains why we chose to start a podcast.
"They are, I think, a medium that's growing in popularity and something that people have time for in a way they don't have time for printed news."
In today's time-strapped world, it's becoming more and more important that news is easily accessible and presented in a way that will allow for the greatest number of viewers, listeners, or readers to be able to get it with the least amount of disruption. What's great about a podcast is that you can listen to an episode while doing other things, so there's virtually no disruption to your routine. And, the Hawk-Eye podcast is certainly entertaining and enlightening.
"When you guys discuss a topic you seem to do it in a very organic way. A good podcast has chemistry between the people who are on it, and you can tell when they don't. And you [the Hawk-Eye staff] do."
The media platform has been popular with the staff of the Hawk Eye Publications. Abigail Lowe, HHS sophomore and editor of the pilot episode, shares her view on the brand new assignment.
"I like just sitting around and saying whatever is on my mind, and knowing that this a judgement free zone so I can say whatever I feel like."
Lowe also agrees that the podcast is becoming more important than just fluffy entertainment.
"I think that we started a podcast because we all, in this class, have different voices and it represents all the different voices in the school… there's a lot of different opinions in this school that should be accounted for and we as a class are stating those opinions in the podcast."
Our most recent podcast was an prime example. Five of our staff members gathered together and shared their views on a recent controversy regarding the incident that happened with the Covington High School students at the March For Life, as well as their opinions on the responsibility of news outlets, the state of politics in America, and the importance of tolerance when debating political views.
HHS sophomore Claire Geiger explains why she thinks this podcast was especially important.
"I think it's really important for students to be able to get the opportunity to voice their opinions and give a general feel for how the school's running, what we're all thinking, and just letting the students know that it's okay to voice their opinions, and it's super important, especially in this day and age."
"I think a lot of it is teaching ourselves to have different opinions and still agree on the common fact that we all come from the same place and we all have a sense of unity… [It's important] learning how to talk about how you feel without getting heated or without starting an argument or something that's going to ruin relationships."
The podcast isn't the only little known outlet that the Hawk-Eye is responsible for producing. The staff is responsible for many of the news updates that the USD 415 Twitter and Facebook posts, as well as many of the briefs that show up on the live feed of the school's website. All of our articles can be found on the school's website at www.usd415.org. Each Saturday morning at 7:00, the Kanzaland radio station airs the Roundhouse Report, which is a rundown of the week's activities, written and recorded by members of the Hawk-Eye staff. We have also started a YouTube channel where viewers can find all of our Red Hawk (P)reviews, along with other special content recorded for the Rainbow television station.
Claire Geiger: "My favorite thing is easily the (P)review. I think that we should be getting it out there a little bit more. Because I know I find myself talking about the (P)review and then students are like 'I haven't seen it yet' and that's something that we put a lot of work into every two weeks and it's certainly something we put a lot of our time into, and I think that deserves a little more credit."
We hope that you find some new ways to enjoy the content that we work so hard to create. Thank you for you support of the Hawk-Eye Publications!
Listeners can find the Hawk-Eye staff podcast, Red Hawk All Access, on SoundCloud at https://soundcloud.com/red-haw...