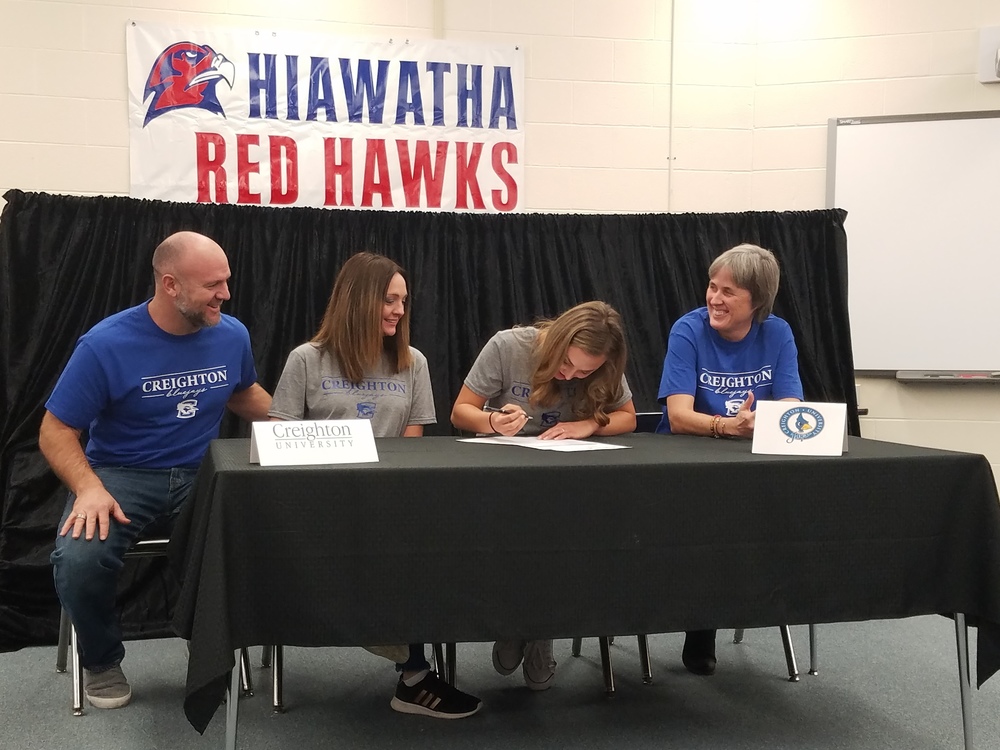 Kettler signs on to Creighton University sports
Isabella Eppens
Wednesday, November 21, 2018
Hiawatha High School senior Elizabeth Kettler signed on to run cross country and track for Creighton University on November 20 in the high school library. Kettler has been running for Hiawatha for five years, beginning with running club her sixth grade year.
Kettler explained why she decided to continue her running career.
"Running is something that I've always loved to do and it's always been such a big part of my life. And then when I took a visit [to Creighton] in April and met with the coaches and then I took another visit in August and met with the team, it just felt like such a good fit and I think it was really something I want to continue."
Kettler's family is proud of her achievements. Ben Kettler, her father, explained Kettler's dedication and perseverance.
"My whole family is very proud of her. There have been ups and downs and she has always worked hard to fight through any adversity. She is the hardest working and dedicated athlete I've ever been around while also having that same, and probably more, dedication to being a student. It's because of that dedication to both areas that will make her a strong student athlete in college."
Kettler's high school coach, Becky Shamburg, agrees.
"Liz has always been extremely motivated to do well. She is a true student of the sport doing everything she needs to do to be a better runner. Liz has even had to deal with injuries and disappointments but she handles all of that and comes back as an even better runner."
Now it is time for Kettler to continue her running career at her choice school, Creighton University. Kettler felt the school's program was an instant match.
"I really like their coach. He handed me a color coded training schedule, I was sold on that. He just really cares about the team. I also think that their program has a good fit because they allow you to keep studying while you're still training. So you don't have to give up your academic goals to maintain your athletics."
Kettler's father also approves of Creighton.
"Since the first time she, her mom, and I stepped onto the campus we knew it was the perfect fit for her. First and foremost they have a tremendous pre-med program and medical school on the campus of a nationally ranked Catholic school. She had other offers to other schools but her faith in Christ and her desire to also include that in her education and training says a lot about her to me. Athletics is secondary to all of that. The feeling from the academic and coaching staffs have been very family oriented from the beginning of her recruiting process. Coach Gannon has been very supportive throughout this process and is very excited to get Elizabeth on campus and pull the best out of her."
As for Kettler's goals at Creighton beginning next year she wants to get the most out of the program and the experience.
"I want to push myself to the point where I can leave there knowing that I didn't have anything else to give."
The Hiawatha community wishes Elizabeth Kettler the best of luck!