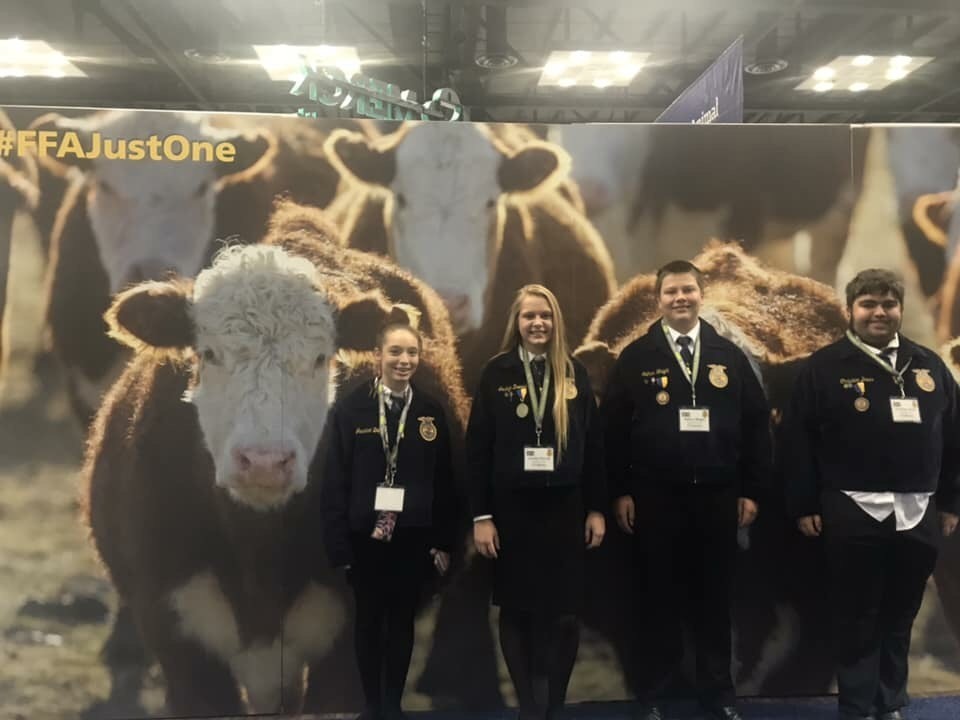 FFA National Convention 2018
Emily Meisenheimer
Wednesday, November 14, 2018
Several students in HHS's FFA chapter attended the National FFA Convention in Indianapolis at the end of October.
Ellen Blackwell - HHS ag teacher and FFA sponsor - arranged the trip for FFA students and explained that, while only four Red Hawk FFA members attended the event, the experience was still a positive one.
"I definitely thought this was a good experience and hope to take more students the next time we go," said Blackwell.
Students who attended got to see Garth Brooks and attended rodeos. President Donald Trump also attended this convention to talk about the importance of FFA. Presidents have been invited to attend this convention, but none have attended in the last twenty years.
Blackwell expressed surprise the the POTUS's appearance.
"Many Presidents do not attend these type of events, so I was very shocked. Although we were informed the night before we left, I was still shocked. Unfortunately, we were not able to [see him] since they sold out of tickets so fast, but it still would've been a wonderful experience," she explained.
Trump talked to FFA members in attendance about trade and how FFA will prepare members for their futures.
While seeing Garth Brooks and the President were exciting for convention-goers, the annual event's primary purpose is to allow FFA members experience career expos and see what it is like to be a farmer in everyday life.
Sophomore Jocelyn Dvorak attended the convention and described it as "one of the best times of my life." She recommends the opportunity to anyone considering going into an ag-related career or who has an interest in ag.
Though only a select number of students can attend the convention each year, Ms. Blackwell plans to try and urge more students to go because it is a great agricultural experience.