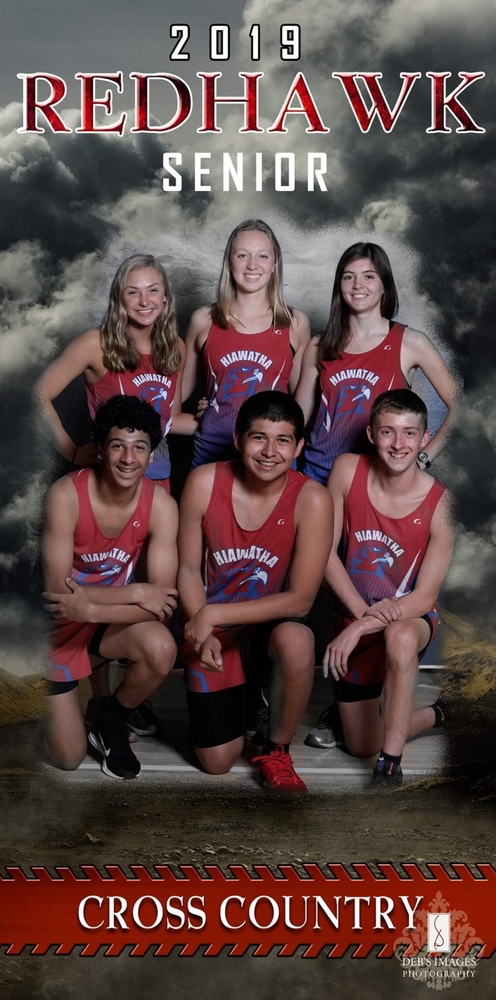 Senior cross country runners reflect
Isabella Eppens
Monday, November 12, 2018
Mary Rosá, Jasmine Morey, Elizabeth Kettler, Liam Jones, Justice Nez and Gabe Corbett - six runners for the HHS cross country team - have run their last race as seniors with the Red Hawk Cross Country team. They answered a couple of questions to wrap up their season.
What did it feel like to run Cross Country for the last time?
Rosá: It was a bittersweet moment 'cause I was kinda glad that the running aspect was gonna be over but it's really, really sad that the team aspect was gonna be done. I was gonna miss seeing all of my friends everyday, and hearing the boys fight and just mess around. I'm just gonna miss the whole team aspect.
Morey: Running cross country for the last time was bittersweet. I knew it was the last cross country race I'd ever run with my team and that was really heartbreaking but I also knew that I had had such a great last season with them and there was so much to be happy about.
Jones: I was really glad I could do it for one time. It's kinda sad it's over with but I wouldn't have done it with another group of people it's like the best team ever.
Kettler: It was kind of bittersweet. Obviously it didn't go exactly as I wanted it to but when I had the last four years, great teammates, and this great family one race doesn't change that. Even though I'm disappointed I'm still really proud of all my teammates and I'm really glad I got to be a part of cross country. I actually ended up I was like "Thank you, Lord, for making me bad at volleyball so I can experience this!" Because being a part of that family is like a whole other thing. From our carb feeds to our after practice stretching chatting and all of our inside jokes. I wouldn't trade them for the world.
Nez: Running cross country for the last time was very sad because I will miss the practices just from messing around and having fun. I also felt accomplished because I ran all four years of high school even though I dislike running long distance very much.
Corbett: It felt good but a part of me is going to miss competing and just being a part of a team that was so successful.
What did it feel like to cross the finish line?
Rosa: It's kind of a rewarding feeling because you've put all this work in the weeks and then you get to finish line and know that you either did your best or you didn't. And a lot of the times we did our best, that's very rewarding for all the work we've done.
Morey: Crossing the finish line was actually a relief. I was really nervous beforehand, because it was state, and just wanted the race to be over and all the nerves to be gone. It was also a great moment, I had run my last race and got to end the season the way I wanted to. I was so happy to be there and to cross that line.
Jones: It feels like a relief because you know that you're finally done and you're just happy you got the race over with.
Nez: It was very sad crossing the finish line for the final time but then again I knew I left everything out there.
Corbett: As soon as I crossed that finish line tears instantly came to my eyes and I cried for a good 15 minutes.
What are the feelings that run through you as you run?
Rosa: A lot of times it's like ugh I wish this was over. I wish this was over, but I'm glad I'm able to do this. There's some runs that your body hurts more than usual but you just have to look around and see that the trees are all turning colors and some look there's reds and yellows and pinks and you just have to appreciate the beauty and opportunity that you have.
Morey: When I run, I usually have a mantra I tell myself. Usually, it's something like "I am so strong", "I can do this", or "Lord, give me strength."
Jones: Just thinking like I need to get up there, catch that kid, and I just think of like ways to stay calm and try to keep up.
Kettler: Normally, I get like a song stuck on my head or before every race we like walk the course and we always make a bunch of inside jokes about the course so like if there's like a hill, we'll like name it stuff like that and so normally like kinda sounds cheesy but Ill tell myself the inside jokes that we come up with or I just sing songs. On a really good day I'm thinking about how much I like it on a kind of rough day I kinda distract myself with those things.
Nez: The feelings going through me as I run is that I want to die very badly due to the heat and my legs being tired from leg day during weights class earlier in the day. When it is cold outside during a race my feelings change drastically because I feel like I can beat Justin Hodge and I'm at the top of the food chain.
Corbett: Honestly there are no feelings other than am I almost done and if I winning the race or not.
Kettler will be continuing her running career at Creighton University in Omaha, Neb. running track and cross country. Jones will be continuing his running career by running cross country and track in college. He is undecided at what school he will be running.