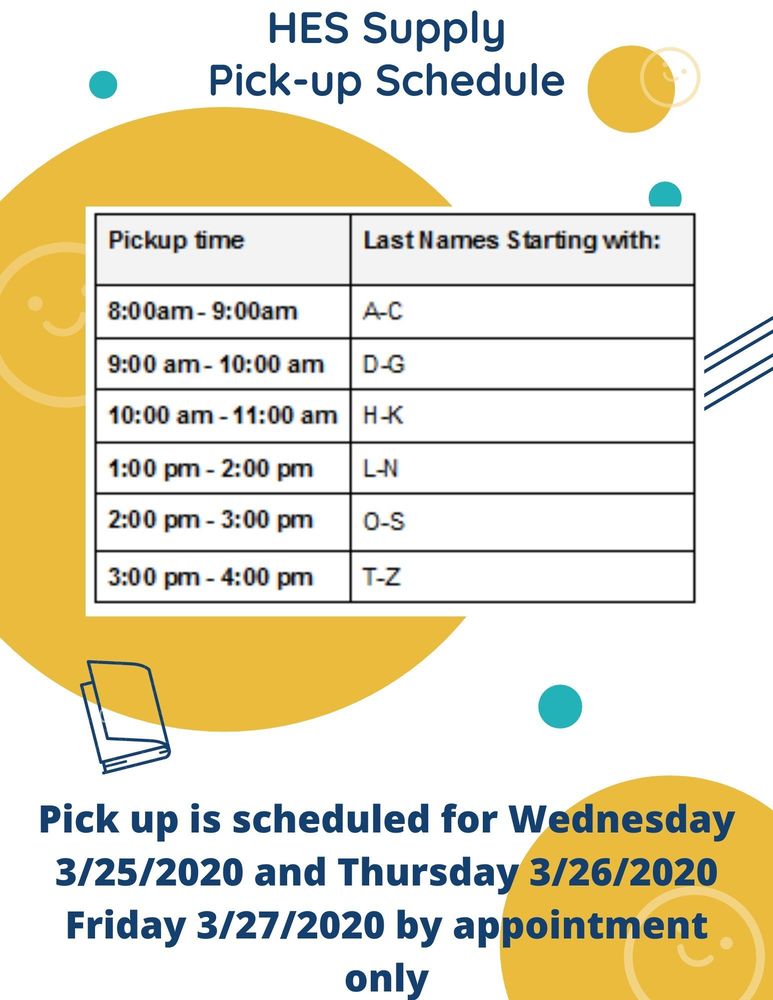 HES Supply Pick-Up Schedule
Hiawatha USD 415
Monday, March 23, 2020
HES Pick-up Procedure
Pick up for Hiawatha Elementary School will be on the sidewalk of the bus lane

Pick up is scheduled for Wednesday 3/25/2020 and Thursday 3/26/2020 or by appointment on Friday 3/27/2020

Pick up will by student's last name.

Pick up all children's supplies who live in the home

Example: A home has 3 children whose last names are Aarons, Sampson, Thompson. Pick up should be when the last name "Aarons" is scheduled.

Technology for each student will be in their box

An acceptable use policy covering the district's devices will need to be signed in order to check out a device

All K-2 will get a district iPad so students have uniform apps

3-4 will have an option to check out a Chromebook

All non-prescription medications will be put in the students' boxes

All prescription medication will be given to the parent upon pick up

If you have prescription medication, an orange note will be in the student's box with the number for the office.

Pull into the parking lot, call the office, and staff will bring you the medication

Library books

Please drop off any library books in the boxes marked "Library book"

Grade Cards

Will be included with each student's materials.
| | |
| --- | --- |
| Pick-Up Time | Last Names Starting with: |
| 8:00 am - 9:00 am | A-C |
| 9:00 am - 10:00 am | D-G |
| 10:00 am - 11:00 am | H-K |
| 1:00 pm - 2:00 pm | L-N |
| 2:00 pm - 3:00 pm | O-S |
| 3:00 pm - 4:00 pm | T-Z |