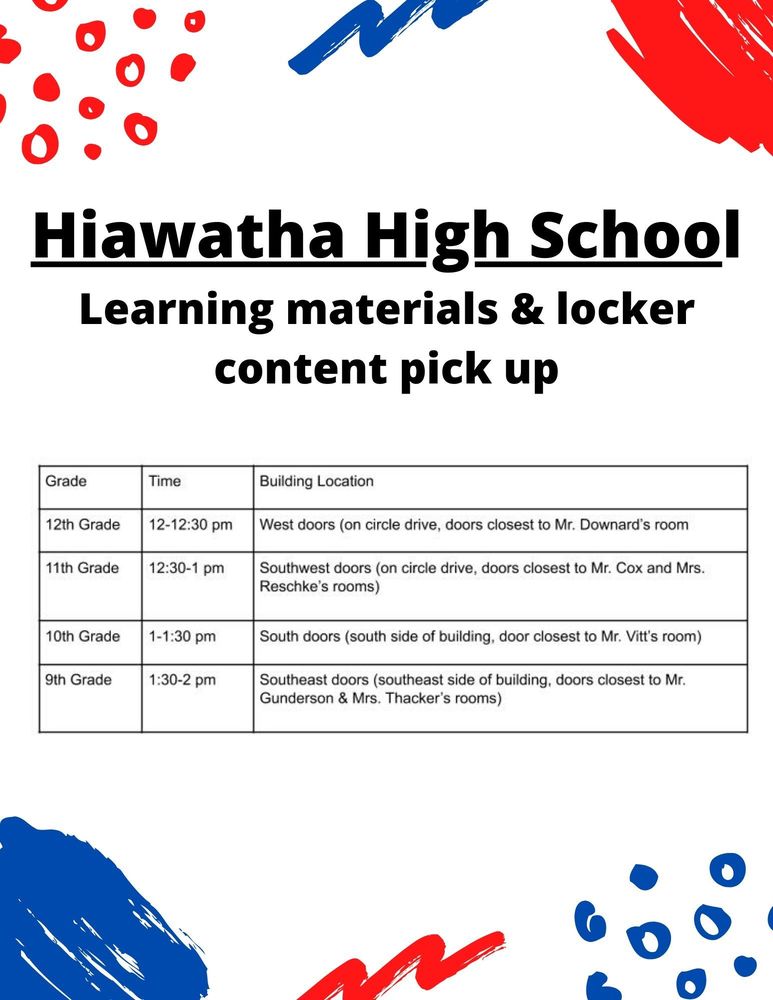 HHS Learning Materials Pick Up
Hiawatha USD 415
Sunday, March 22, 2020
Hiawatha High School
Learning materials & locker content pick up
Parents or students should plan to pick up their learning materials as well as locker contents on the afternoon of Monday, March 23. See below for the pick up times and locations:
| | | |
| --- | --- | --- |
| GRADE | TIME | LOCATION |
| 12th | 12-12:30 pm | West doors (on circle drive, doors closest to Mr. Downard's room |
| 11th | 12:30-1pm | Southwest doors (on circle drive, doors closest to Mr. Cox and Mrs. Reschke's rooms) |
| 10th | 1-1:30 pm | South doors (south side of building, door closest to Mr. Vitt's room) |
| 9th | 1:30-2 pm | Southeast doors (southeast side of building, doors closest to Mr. Gunderson & Mrs. Thacker's rooms) |
Safety Procedure:
Follow the CDC guidelines of 6 feet away from another individual at all times. Only approved staff are allowed in the buildings--therefore, you will be handed your child's items through the door. The door will remain a barrier between you and our staff.

Please try to stagger yourselves so that we are following the CDC recommendation of no more than 10 people gathered at a time.

If you or your child is quarantined, please do not come! Make arrangements to pick up at an alternate time or have another person pick up for you.

**Unless we receive verbal or email permission from you, only you or your child will be able to pick up their belongings.